Green Laser Pointers <5mW
<5 mW Green Beam Laser Pointers
50 TIMES MORE POWERFUL THAN RED LASER POINTERS!
Our green beam laser pointers are the finest quality available. The very latest in green laser technology. 50 times brighter than a red laser diode, the green laser is visible to the naked eye, not just the beam dot. Well suited for lab experiments; professional lectures; fun & games at night clubs and discos; or to assist in astronomy and star gazing.

All green laser models are <5 mW ( 1.5 ~ 4 mW ) output; have beam ranges of 12,500 ft.; have beam wavelengths of 532 nm ( The wavelength most easily detected by the human eye ); have glass lenses ( makes the beam dot noticeably sharper than with old - style plastic lenses ); feature green laser diodes manufactured by SONY ( the one and only !! ); and carry 120 day warranties.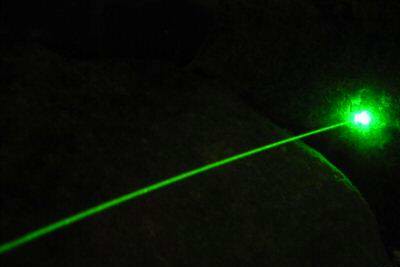 How far is 12,500 feet? Just remember, one mile is only 5,280 feet!!!
SO POWERFUL, YOU CAN SEE THE ACTUAL LASER BEAM, NOT JUST THE DOT!
These photos have not been edited in any way
< 5 mW Green Beam Laser Pointers.
Our "best value" model.
Beautiful satin lined gift case.
Choice of matte black; silver pointer casing.
Push button switch.
Two (2) AAA batteries included.
Wavelength - 532 nm
Output - < 5 mw ( 1.5 ~ 4 mW from factory )
Class - 111a
Range - 12,500 ft.
120 Day Warranty
Batteries - 2 x AAA ( included )
Lens type - glass
Diode Manufacturer - Sony
Diode Operating Lifetime - 3,000 to 5,000 hours
Output Type - constant wave
Only $19.95 each

Please email us if you have any questions about our products.
We ship all green laser pointers UPS Ground with insurance.
$6.00 shipping in USA
International orders will be charged more depending on weight
CHECK OUT THIS WEEK'S HOTTEST ITEMS!!!